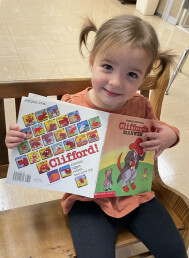 This program is designed for children ages six weeks thru five years. We accept children Monday thru Friday and are open year round from 6:00 A.M. to 6:00 P.M.
You may enroll for twelve months or during the school year (mid-August to May). Children are enrolled for a minimum of two days a week to five days.
Nutritious meals are served for breakfast and lunch. We also offer an afternoon snack. All meals are served in our lunchroom for ages 2 thru 5. The children six weeks to 23 months are served in their classroom.
Children will have a naptime following lunch. Those children in the infant room nap in cribs. The Little Preschoolers and Preschool children nap on cots.
Get Forms: Registration State Health Form
Infant
The infant room serving ages six weeks to 23 months are provided a spacious well lit room for your child to enjoy in a healthy environment. The children are introduced to age appropriate activities to enjoy at each stage of development.
We request parents to furnish their child's daily schedule to help in making the program that special "home away from home" where your child can laugh, learn and be loved.
Little Preschoolers
Our Little Preschooler class is designed for children ages 2 to 3.
We provide a positive, happy environment for the children in a Christian setting. The child will be free to explore their environment and will receive guidance as they participate in activities in which they will be able to experience success. We assist in the development of the person they become physically, emotionally, socially, intellectually and spiritually. Our first priority is that the influence we have is a positive one.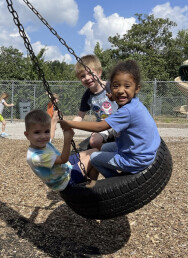 The children have a daily schedule enjoying calendar time, Bible stories and singing.
Centers are provided as well as project time in the morning and afternoon. Each month their projects and learning activities are centered around a specific color, shape and number.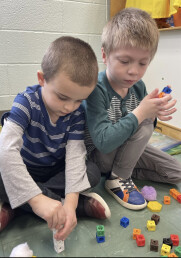 During your visit to our classroom you will observe children in various stages of interaction. You will see play. Children begin to make sense of the world in which they live through play. Play is essential for children to learn. Curiosity, self-esteem, language, problem solving, mathematics, cooperation, endurance and fun are just a few of the many components that are developed and enriched when children play.
In addition to enjoying the playground and gym for large motor activity, the children also enjoy riding trikes and cars in our large activity room.
Preschool
The preschool class is designed for children who are 3 by August lst and potty trained to the age of 5.
Children in this class enjoy attending half-day preschool each day they attend.
In the afternoon they will also do an enrichment activity which is planned to enhance their learning from their preschool morning.