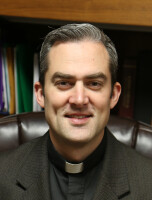 Jon Furgeson
Senior Pastor
E-Mail:

Rev. Dr. Jon Furgeson has been a pastor at Peace since 2006. He is originally from the suburbs of Denver, Colorado. He attended college at Concordia University Seward, Nebraska, from which he graduated with majors in Computer Science and in Secondary Education. He continued his studies in Computer Science at the University of Notre Dame, where he met his wife, Alice.
He then left the computing field to go to the Seminary, from which he graduated in 2006 with his Masters in Divinity. He earned his Ph.D. from Concordia Seminary in 2020, writing his dissertation on spiritual warfare. In addition to his ministry, he enjoys exercise, martial arts, writing, reading, retro video games, and good jokes. His joy is teaching others about how salvation in Jesus leads to a real, profound, and daily impact on life today (and forever).
Pastor Furgeson and Alice have been married since 2002. They and have two sons, Ian and Aidan. Alice is a scientist and researcher, with a Masters in Computer Science from Notre Dame and a Masters in FDA Compliance for the pharmaceutical industry from Temple.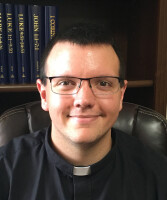 Robert Brown
Associate Pastor
E-Mail:

Rev. Robert M. Brown was assigned to Peace in April, 2020 and was installed on August 2, 2020. He is a native of Troy, Illinois. He graduated from Southern Illinois University-Edwardsville with a B.S. in Mass Communication in 2013.
Pastor Brown enjoys bowling, weightlifting, watching sports, and officiating basketball and baseball. After attending SIUE, he worked as Assistant Director of social media and operated the website for a local homeless shelter.
He and his wife, Judy, currently reside in South St. Louis County. They welcomed a daughter in June, 2022!
Pastor Brown can be reached at (618) 580-8817.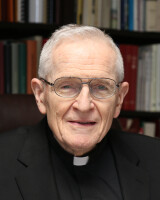 Dennis Kastens
Pastor Emeritus
E-Mail:

Rev. Dennis A. Kastens began his ministry as Senior Pastor at Peace Lutheran Church in 1995, after three years of service as Administrative Pastor at Immanuel Lutheran Church in Colorado Springs, Colorado. Since his incumbency at Peace, the congregation has experienced considerable growth. His faithful shepherding has resulted in an increase in average weekly worship attendance from the 400's to approaching the 900's. In recent years, Peace has enlarged its campus with acquisition of adjoining properties, expansion of available parking, and erection of a Family Life Center (including gymnasium, youth and music facilities) to accommodate Peace's many ministries. Construction of a brand new sanctuary began in 2013. The first services in the new building were held on August 17, 2014, when the new sanctuary, featuring a Martin Ott opus 114 Pipe Organ, stained glass windows, and an expanded nave area, was dedicated. In August, 2020, Pastor Kastens began his role as Pastor Emeritus.

Pastor Kastens attended St. John's College, Winfield, Kansas, and Concordia Senior College, Ft. Wayne, Indiana prior to enrollment at Concordia Seminary, St. Louis, Missouri, where he graduated with a M.Div. in 1965, and from which he received a Litt. Doctorate in 2000.

He is married to former Alice Nobe of St. Louis. She is a graduate of the University of Hawaii and holds a M.S. in Early Childhood Education from Southern Illinois University. They have two grown children who are married, and have five grandchildren.

From 1965-1979, Pastor Kastens was a missionary in Hawaii where he established several schools and congregations on the Islands of Hawaii, Maui and Oahu.

From 1979-1992, he was Pastor of Good Shepherd Lutheran in Collinsville, Illinois, where an elementary school was launched which grew to 450 pupils operative on two campuses.

He was Vice-President of the Southern Illinois District of the LCMS, from 1988-1992, having served earlier with various District auxiliaries and boards.

For a number of years he was contributor to Portals of Prayer, The Lutheran Witness, wrote curriculum materials for Synod's midweek religious education series and has had several sermon books published. While a translating attache with Dr. Dale Meyer (during his years as speaker of the international Lutheran Hour), his travels took him to the former East Germany, Poland, Czechoslovakia, and Russia. At that time he also served on the East Bloc Commission with the Board for Mission Services of the LCMS.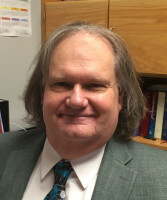 Burnell Hackman
Director of Music Minstry
E-Mail:

Burnell L. Hackman began serving as Peace's Director of Music Ministry on January 1, 2013. Burnell previously served as Director of Music Ministry at St. John's Lutheran Church in Arnold beginning in November 2000, where he directed a multi-faceted music program, concert series and oversaw the design and installation of St. John's 139 rank Johannus Organ.

Prior to coming to Arnold, he was involved in music ministry at several Jacksonville, Illinois churches serving as organist, vocal choir director and handbell choir director. His handbell ensembles have provided worship leadership on six occasions for Handbell Musicians of America (AGEHR) Area 8 conferences and had the honor of leading a worship service for the AGEHR National Directors Seminar at the Basilica of St. Louis, King of France (the Old Cathedral) in 1995. He has served Area 8 as treasurer from 1992 - 1996 and Chair from 2002 - 2004. He was awarded the Outstanding Service Award from Area 8 in 2000. Burnell was a public school music teacher before entering Music Ministry full time.

Hackman is a member of the American Guild of Organists, Association of Lutheran Musicians, American Choral Directors Association, Handbell Musicians of America, the Committee on the Creative Arts of Arnold and Handbell Association of Greater St. Louis, of which he is Chairman.

Married since 1980 to Kathryn, they have one son, Biff. Kathy rings handbells and plays the flute.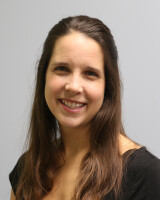 Christina Stackle
Director of Christian Education
E-Mail:

Christina Stackle has served as the Director of Christian Education since 2005. Her primary focus is on the youth and their families in 6th - 12th grade. Prior to her call at Peace, Christina served at Our Redeemer Lutheran Church in Marshall, Missouri and Messiah Lutheran Church in Clio, Michigan. She received her undergrad in Lutheran Confessions with a minor in Youth and Family ministry from Concordia University, Minnesota. Throughout her ministry she has served on the LCMS-National Youth Gathering Committee and the Missouri District Board for Family Life and Youth Ministry. She is involved in the planning and implementation of the district's Jr. Youth Gathering and Sr. High Peer Ministry Training. Christina has been a speaker at the District's "Connect" conference. She also is working with the Missouri District Board for Congregational Services as a consultant for youth and family ministry. Christina earned her Masters of Science in Family Life from Concordia University-Wisconsin in 2022. She is married to Ed Stackle and God has blessed them with their greatest joys - Jacob Landon and Hannah Grace.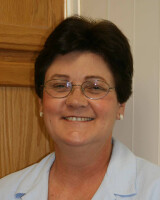 Susan Velten
Director of Early Childhood
E-Mail:

Sue Velten serves as the Director of Early Childhood Programs for Peace Lutheran Church. The responsibility covers the administration and strategic planning for Peace's Preschool, Parents Day Out, and Daycare programming. In this capacity since 1992 the program has seen considerable growth in the number of students and also in the creation and cultivation of the Daycare program in 1997. These programs provided an education environment in Christ's eye, and also serves as an outreach program to the community.
As a member of Peace since 1985, Sue first became involved in the Early Childhood Program in 1987, as a committee member. She was on the committee to establish a Parent's Day Out program (formally Mother's Day Out) that same year, also becoming a working staff member. It provided an engaging experience for her after many successful years with Southwestern Bell Corporation in downtown St. Louis. This experience turned into other opportunities, ultimately in the director's role with the Early Childhood program. She has worked to maintain the high level of education in the current programs, and at the wishes of the church, began the process of beginning a Daycare program leading to the current array of programming.
Sue has been involved in numerous other activities in the community and church congregation. These activities range from being both a Girl and Boy Scout leader for her children's troops to teaching Sunday School for 40 years. She also assists in Vacation Bible School and the annual Boar's Head Festival. She enjoys giving her time and efforts to the Lord.
Sue and her husband Dan have been married 30 years and have two children, Steven and Jennifer, who are also members of the congregation. They enjoy spending time with each other, family and friends.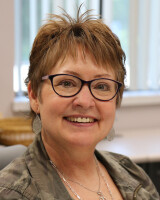 Kelly Pfund
Office Assistant
E-Mail:

Kelly serves as a full-time Office Manager at Peace Lutheran Church. She started this position in the summer of 2020. Prior to working at Peace, she served as the Administrative Assistant at Green Park Lutheran School from 2008 to 2020. Her current position involves working with the called staff, office volunteers and Sara Hopfer to complete the work necessary for worship, and accommodate requests from the numerous, active Peace members, committees, and organizations. Kelly and her husband Steve are members of Peace Lutheran Church and have 3 adult children, a grandson and a granddaughter.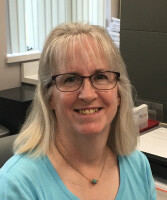 Sara Hopfer
Office Assistant
E-Mail:

Sara serves as the part-time office assistant at Peace Lutheran Church, working on Tuesdays and Thursdays. She began in this position in August of 2010. Her primary responsibilities consist of completing a rough draft of the Sunday bulletin, preparing baptism certificates, updating the messages on the Commons TV and outdoor sign, and maintaining the church website. As needed, she works with Kelly Pfund to assist in various other areas in the office. Sara became a member of Peace in 1989 when she married her husband, Alan, a Peace member since 1963. They have three children who have attended Green Park Lutheran School and Lutheran High School South. They are excited to welcome their first grandchild in July, 2023!