Before Peace Lutheran Church held its first church service on December 2, 1945, future members had already been involved in evangelism for about 10 years.
Harold Johnson, a 20 year old, second year student of Concordia Seminary St. Louis became interested in the Lemay mission field in April 1945. His enthusiasm equaled that of Charles Zalaudek Sr. and they went about starting the new mission with the Seminary's approval. They contacted all known Lutherans living south of Reavis Barracks Road through Oakville to the Meramec River. They were very encouraged with the results of their work and determined that people in this community wanted to start a congregation in the area.
The first organizational meeting was held at the Zalaudek home at 2866 Telegraph Road in late spring of 1945. Charles Zalaudek, Sr. presided over the meeting and his wife, Agnes, recorded the minutes. The second organizational meeting was scheduled to be held on August 17, 1945. However, this was the day that the Japanese surrendered, ending World War II. Everyone celebrated and no one attended the meeting. The congregation's name "Peace" came from the ending of the war.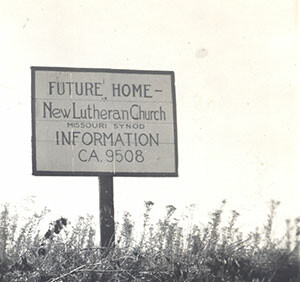 Early church services were held in the Zalaudek home until arrangements for building a church were made. As the membership grew, two acres of land were purchased at 2833 Telegraph Road. Most of the work of building the school/church combination was done by members. On Saturdays, members quarried stone, with every stone hand-picked, all 180 tons of them. The building was dedicated on May 18, 1947 with 247 people attending the afternoon service and 107 attending the evening service.
On August 17, 1947, Harold Johnson was ordained and installed as the first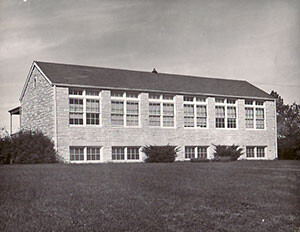 pastor. Three weeks later, the first school was started with Pastor Johnson serving as both pastor and teacher. Pastor Victor Growcock was ordained and installed as the Assistant Pastor in 1949. As a student, he had helped build the stone church. By December 1949, the congregation had grown to 210 communicants and during the next seven years steady, solid growth continued at the church and school.
In September 1956, Peace, Gethsemane and Christ Memorial congregations met to discuss developing a consolidated school. From that initial meeting, the Green Park Lutheran School was established and opened on September 5, 1961 with 357 students.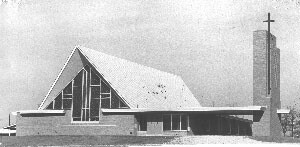 By 1957, the congregation had grown to 303 communicant members and had outgrown its facilities. The need for more space culminated in purchasing land near Lindbergh and Ringer Road in South County with ground breaking for a new church held on June 12, 1960. Dedication day: 1962.Dedication Ceremony
A scant six years after building the new church, communicant membership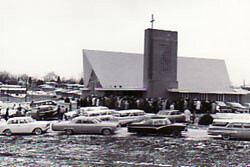 had grown to 718 members and plans were made to build an education wing adjacent to the church. This two story facility provided much needed Sunday School, Bible class and youth space and was dedicated in 1970. With the increased space, the Early Childhood programs had 230 children enrolled by 1997.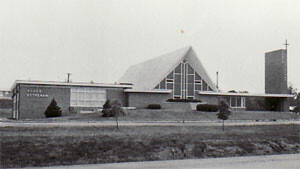 In advance of the 50th anniversary of Peace, a Telephone Outreach Program was conducted with members making over 10,000 phone calls to homes surrounding the church. The response to the calls, coupled with the arrival of Rev. Kastens in February 1995, resulted in a need for upgrading the existing facility and adding additional space.
An administration wing was added to the growing facility in 1987 as was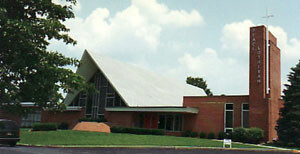 additional parking and upgraded air conditioning and heating systems. By 1999 Peace was debt free and plans were put in place to expand again to serve the needs of current and future members.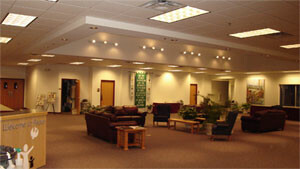 After purchasing adjoining residential properties, design for a Family Life Center began. Completed in 2002 and dedicated in January of 2003, this expansion doubled the size of the existing facility and provided much needed space for the growing congregation. In addition to a gymnasium and commercial quality kitchen, a large commons area and meeting rooms were added on the first floor. An elevator provided easy access to the lower level where additional Sunday School classrooms were added along with a larger Youth Room, music rehearsal space, lower commons area and necessary storage and service areas. Average weekly worship attendance had grown to over 800 and the Early Childhood Program had increased to over 400.
With increased attendance came the need for additional parking. Three more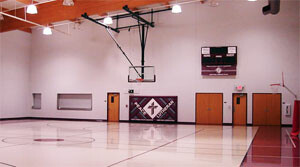 houses were purchased and a new 122 space parking lot was built just in time for the annual Boar's Head Festival performances in 2006. By then, Peace membership had grown to over 1600 with an average of more than 900 people attending services each weekend.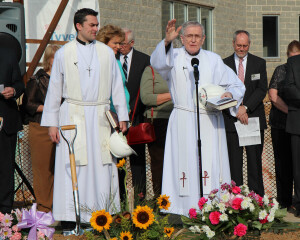 One of the biggest undertakings was the building of a new sanctuary. Groundbreaking was held on April 7, 2013.
Construction took a little over a year. The new sanctuary was dedicated on August 17, 2014.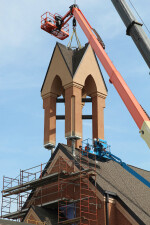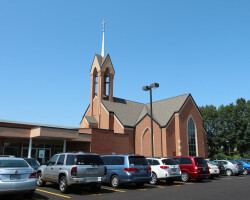 Future chapters in the history of Peace Lutheran Church will be written as pastors, staff, and members continue the evangelistic spirit which founded Peace in 1945. With outreach programs within the local community, Alaska, Indiana and Minnesota in the United States and Mexico, Guatemala, Japan and Germany in other parts of the world, the word of God continues to be spread by Peace.
God continues to shower his blessings on Peace Lutheran Church and its members.